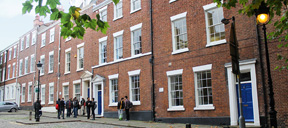 The Language School, 9-11 Stanley Place
The Language Training Centre, 2 Stanley Place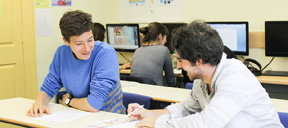 Self-Access Centre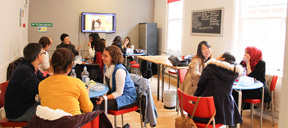 Coffee Room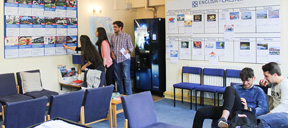 Common Room
The School
English in Chester was established in 1976. It was the first British Council accredited English language training centre in Chester.
English in Chester is a community. People make the school what it is today. The teachers and staff are very important parts of this community. We are fortunate to have some wonderful, clever and charismatic people working at English in Chester. Many have been working at the school for more than ten years. They all contribute towards creating the excellent quality standards that English in Chester is so proud of.
Our students are an equally important part of the community. We regard everyone as an individual and want them to feel that they are a vital part of the school from the moment they arrive in Chester.
This community also includes many people who work with us: homestays, residential accommodation providers, excursion providers and airport transfer providers. Their commitment to our students and to the quality of experience they offer is crucial to the satisfaction of our clients.
Of course, a school also needs buildings, equipment and facilities. We have our own historic buildings in the centre of Chester, which we have skilfully adapted to modern educational usage. We are constantly working to maintain and improve the quality of the study environment for our students. We also invest heavily in learning resources including classroom technology, to give our students the best possible English language learning experience.
Our Mission
To transform lives by enabling people to better communicate globally through:
teaching of the English language
promoting inter-cultural understanding
encouraging appreciation of the different ways we all live, think and learn
Our Goals and Values
To transform lives by enabling people to better communicate globally through:
Excellence: we aim to offer the highest standards in teaching, training, services and facilities
Integrity: we aim to be honest, fair and ethical in all our relationships
Innovation: we believe in constantly reviewing and developing our teaching, facilities, services and staff
Respect: we endeavour to treat everyone equally and with respect, understanding that everyone is unique with different needs and different goals
Collaboration: we recognise the importance of working and studying together, as a team
40th Anniversary
In 2016 we celebrated our 40th Anniversary and created a special timeline with messages and photos from our past students and staff. Click here to view it.